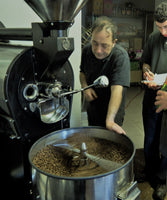 Our Story
Our story begins in Meadowbank 2008. Not satisfied with the commercial coffees available, Louis decided to roast coffee with an air roaster and then progressed roast to a 5kg drum roaster.
As a result, his coffee sales went from 5kg a week to 45Kg a week, over a two year period. Louis's son, Terence, was trained by Louis and other professional roasters. Together, Louis and Terence roasted and mastered their blends and techniques.
Louis and Terence roast their own coffee beans and make their own chocolate onsite and from scratch. All of their sources are direct trade - straight from the farmer to your coffee cup.
Location
Our store
103 Parramatta Road
Annandale NSW 2038
Monday - Friday - 7:00am to 2:00pm
Saturday - 7:00am to 2:00pm
Sunday - Closed